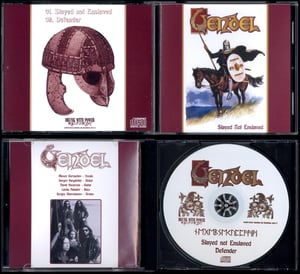 $

8.00
Stunning Traditional Epic Heavy / Doom Metal from Moscow, formed by members of several other bands of different music styles.
Taking inspiration from the classic albums of CANDLEMASS and IRON MAIDEN (at their most epic moments), and more recent heavy metal heroes like English SOLSTICE and ISEN TORR, as well as cult Russian band SCALD - VENDEL have recorded two conceptually related songs about the Vendel Period (550—793) - the final period of the late Germanic Iron Age or the Migration Period in general.
Each song describes the various realities of this era: raids and internecine strife, honor and the warriors ethics - and its fits with music perfectly!
Very strong and powerful vocals, which reminds Ronnie James Dio themselves (can you think of the better compliment to the heavy metal vocalist?), great basslines, solid barbarian drumming, excellent guitar leads and melodies and RIFFS, RIFFS, RIFFS - by the quantity (and quality!) of riffs and the overall complexity of the songs this recording will give odds to even many full-length LPs!
Originally released some months earlier as very limited edition cassette, now this masterpiece is finally available on CD with advanced design including lyrics and nice poster-style booklet with a very cool looking band photo.
Tracklist:
1 - Slayed Not Enslaved
2 - Defender