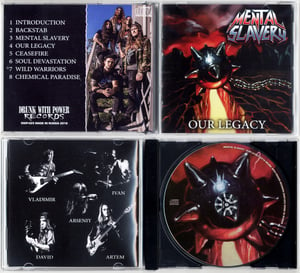 $

10.00
Debut full-length album by young, but very promising Russian thrash metal band from Moscow.
For little bit over a year of its existence, the band has already managed to release two EPs "Point Of No Return" and "War Pigs Of Nowadays", and now it's time for their debut LP called "Our Legacy" - the first recording with a new second guitarist David from epic heavy/doom metallers VENDEL.
On "Our Legacy" you'll get brutal thrash metal with harsh and rough vocals and pretty dark atmosphere in the best traditions of classic albums like SEPULTURA "Schizophrenia" and POSSESSED "Beyond The Gates", flavored with crushing riffs in the vein of DEVASTATION "Idolatry". Special attention deserves vintage barbaric '80s-like sound production. If you're tired of plastic, soulless and overproduced sound of many modern metal releases (especially on big labels) - that's what you're looking for!
8-page booklet with lyrics and photos.
Tracklist:
1 - Introduction
2 - Backstab
3 - Mental Slavery
4 - Our Legacy
5 - Ceasefire
6 - Soul Devastation
7 - Wild Warriors
8 - Chemical Paradise